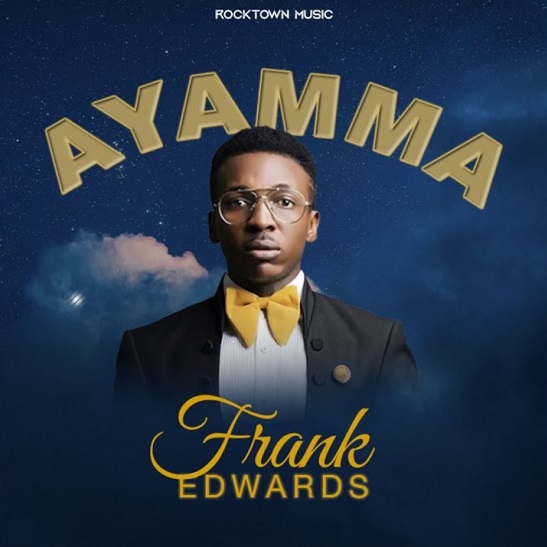 Rock town Records CEO, songwriter and award-winning Gospel artiste, Frank Edwards releases brand new music video titled "Ayamma".
Ayamma is a song that professes the beautiful nature of the son of God, Jesus Christ. For His undying love for the world and being faithful to His promises, He alone deserves our Praises.
This new sound follows the release of Frank Edwards' latest eight track album (Angelic) including "Love", "Jesus", "Bow" "Most High", "Ode" and more.
Ayamma Lyrics by Frank Edwards
[Chorus]
Jesus, Imara mma Eh
Eze Jesus, Ibu So'mma Eh
Ihe Ikuru Ka'Igeme O
AYAMMA Eh, eh
Ihe Ikuru Ka'Igeme O
AYAMMA Eh, eh
Okwa Ihe Ikuru Ka'Igeme O
AYAMMA Eh, eh
Onyeoma Mara Mma Eh
Jesus, Imara mma Eh
Eze Jesus, Ibu So'mma Eh
Ihe Ikuru Ka'Igeme O
AYAMMA Eh, eh
Ihe Ikuru Ka'Igeme O
AYAMMA Eh, eh
Okwa Ihe Ikuru Ka'Igeme O
AYAMMA Eh, eh
Onyeoma Mara Mma Eh
[Chorus – Translation]
Jesus, You are Beautiful
What you said
Is what you will DO
The Beautiful One
[Verse 1]
Make I tell you Something
Biko Genum Nti
This my God na Helelle
Him name na AGIDIGBA
Everyday he dey do me Something
Oya see me Counting
I no Fit Count O, Because
Even if I have a Million Years
I no Fit Count
Wetin you dey do for me O
Na because of Me
They Nailed you on the Cross
This Love, this Love, this Love
[Chorus]
Jesus, Imara mma Eh
Eze Jesus, Ibu So'mma Eh
Ihe Ikuru Ka'Igeme O
AYAMMA Eh, eh
Ihe Ikuru Ka'Igeme O
AYAMMA Eh, eh
Ihe Ikuru Ka'Igeme O
AYAMMA Eh, eh
Onyeoma Mara Mma Eh
Ihe Ikuru Ka'Igeme O
AYAMMA Eh, eh
Ihe Ikuru Ka'Igeme O
AYAMMA Eh, eh
Ihe Ikuru Ka'Igeme O
AYAMMA Eh, eh
Onyeoma Mara Mma Eh
[Verse 2]
Eze Nara Ekele, (AYAMMA Eh, eh)
If not for your Love O
Tell me where I for dey
(AYAMMA Eh, eh)
Everyday, me I go Praise you dey Go
(AYAMMA Eh, eh)
Onyeoma Mara Mma Eh
Okwa Gi Na'eburum Ibu
(AYAMMA Eh, eh)
Okwa Gi Na'lurum Olu
(AYAMMA Eh, eh)
Ihe Ikereke Na'enye Gi Ekele
(AYAMMA Eh, eh)
Onyeoma Mara Mma Eh
[Bridge]
IYO YO YO YO AYAMMA Eh, eh
IYO YO YO YO AYAMMA Eh, eh
IYO YO YO YO AYAMMA Eh, eh
Onyeoma Mara Mma Eh
IYO YO YO YO AYAMMA Eh, eh
IYO YO YO YO AYAMMA Eh, eh
IYO YO YO YO AYAMMA Eh, eh
Onyeoma Mara Mma Eh
AYAMMA Eh, eh,
AYAMMA Eh, eh
AYAMMA Eh, eh