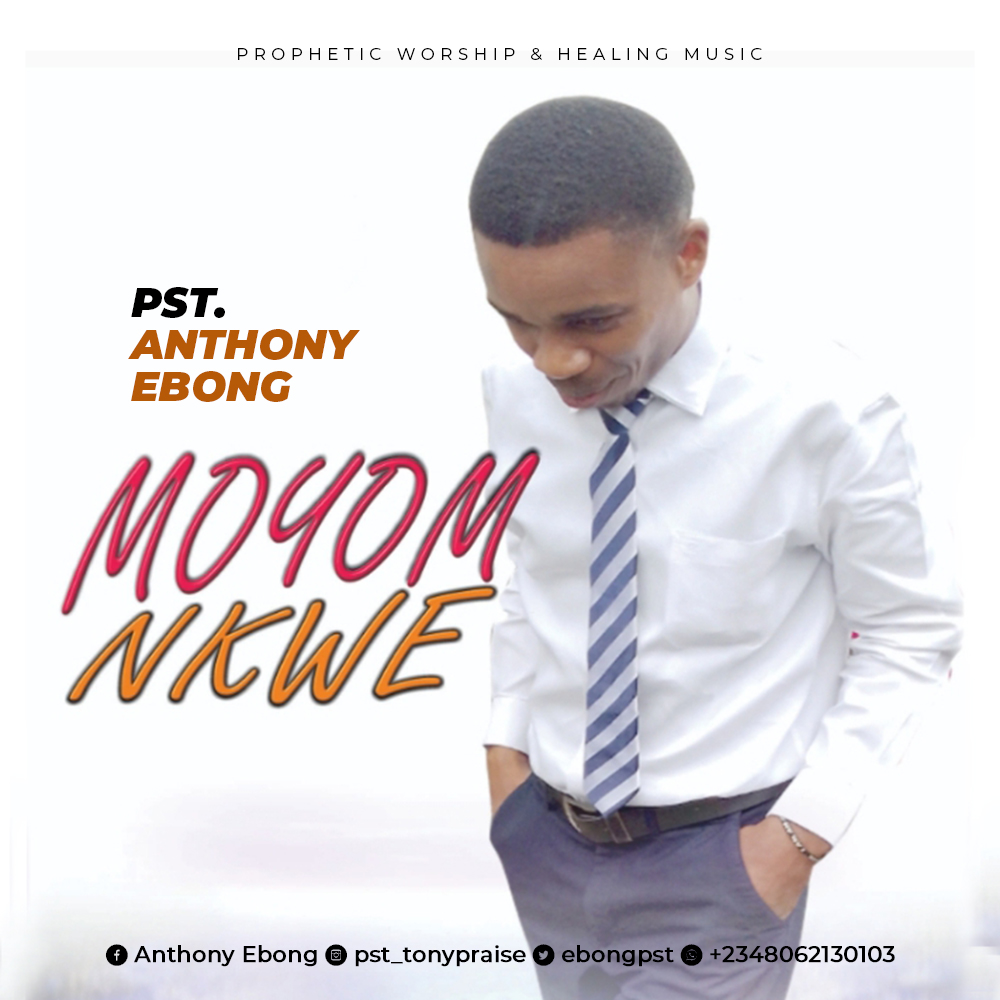 Nigerian-based gospel recording artist and prolific songwriter; Pastor Anthony Ebong releases another brand new song titled "MOYOM NKWE" which means "Have searched and cannot see" in efik dialect
The song "Moyom Nkwe" is all about the life of Jesus Christ even unto death, including his love for humanity, forgiveness, feelings of abandonment, declaration of mission completion, and promise of eternal life.
 "Greater love has no one than this: to lay down one's life for one's friends." – John 15:13. Moyom Nkwe is a song that embodies strength, courage, and resilience.
MOYOM NKWE LYRICS
1. Who can controls the world I see,
and walks me through it all,
forgiveness and redemption is guaranteed by
your blood and grace
yeah, yeah eh, yeah
(CHORUS)
Ami Moyom Nkwe, efen itiehe nte afo
(I have search and find non like you)
Jesus eh
Ami Moyom Nkwe, efen itiehe nte afo
(I have search and find non like you)
moyom
Ami Moyom Nkwe, efen itiehe nte afo
(I have search and find non like you)
moyom
(Ami Moyom Nkwe, efen itiehe nte afo)
I have search and find non like you.
I have search and can't find
no one like you eh Jesus
(Ami Moyom Nkwe, Ami Moyom Nkwe)
I have search and can't find
CHORUS
Ami Moyom Nkwe, efen itiehe nte afo
(I have search and search all over the world)
Jesus
Ami Moyom Nkwe, efen itiehe nte afo
(I have search and find non like you)
No one like you
Ami Moyom Nkwe, efen itiehe nte afo
(I have search and find non like you)
Jesus moyom nkwe
(Ami Moyom Nkwe, efen itiehe nte afo)
I have search and find non like you.
I have search and can't find
No one like you eh Jesus
(Ami Moyom Nkwe, Ami Moyom Nkwe)
I have search and can't find
2. No one is like you
In Heaven and on earth
Who can search the depths of me?
and love me the way I am,
only you God, you God no one but ah oh oh
3. Jesus Jesus Jesus
ima mfo okpon akan (Your love is greater than)
Enyong ye isong (Heaven and the Earth)
ke nsisnsi Ukpono mfo (for ever your glory)
ikwereke obong mi (will never end my Lord)
Kpukpro emana eyekut (All generation shall see)
odudu ye ubong mfo oh oh oh (your power and your glory)
CHORUS
Ami Moyom Nkwe, efen itiehe nte afo
(I have search and search all over the world)
Jesus
Ami Moyom Nkwe, efen itiehe nte afo
(I have search and find non like you)
No one like you
Ami Moyom Nkwe, efen itiehe nte afo
(I have search and find non like you)
Jesus moyom nkwe
(Ami Moyom Nkwe, efen itiehe nte afo)
I have search and find non like you.
I have search and can't find
No one like you eh Jesus
(Ami Moyom Nkwe, Ami Moyom Nkwe)
I have search and can't find
4. Your love is unconditional Lord,
Despite my mistakes, my guilts
My faults,
You don't base it on my
Returns, yeah yeah,
nsito Ima Idiamo (what manner of love is this)
Oh-oh-Moyom Nkwe
Mmoyem Nkwe – Nkwe eh eh