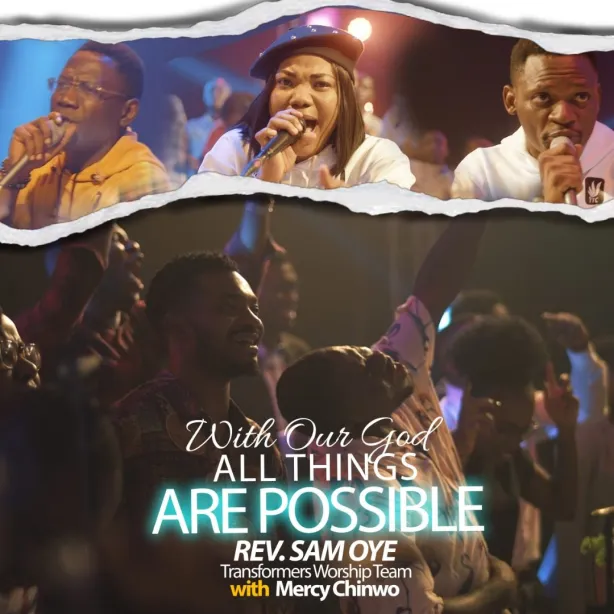 Rev Sam Oye, and The Transformers Worship Team, link up with Mercy Chinwo in a new sound "With Our God All Things Are Possible". Rev sam is the lead pastor of Lead pastor of The Transformation Church.

The new song co-written and arranged by Manus Akpanke, Kendal McDowell, and Rev Sam Oye, brings to a reminder that 'No matter what you are going through right now, With Our God All This Are Possible'.
This Is A Song To Sing At All Times In All Places And When Faced With Any Situation. In This Amazing Project Featuring Rev Sam Oye, Transformers Worship Team And Mercy Chinwo, You Will Be Reminded That, No Matter What You Are Going Through Right Now With Our God All This Are Possible'.
"Believe in God, engage Him in matters that seem impossible and watch as impossibilities unfold and that issue of concern becomes a solved case." – Rev Sam
Lyrics: WITH GOD ALL THINGS ARE POSSIBLE By Mercy Chinwo, Rev Sam Oke
[Verse 1]
When we Pray
There's a God who Hears us
When we Pray
There's a God to Answer
When we Pray
We Prevail, we Prosper
Cause with our GOD
All things are Possible
[Chorus]
(With our GOD)
All things are Possible
(With our GOD)
All things are Possible
(Yes, With our GOD)
All things are Possible
(Nothing to Hard for Him)
All things are Possible
[Verse 2]
I've Seen the Lame Man Walk
I've Seen the Dumb Man Speak
I've Seen the Blind Eyes Open
The Dead Back to Life
Destinies Rearranged
Impossible made Possible
[—TESTIMONY–]
[Verse 3]
His Record will Prevail
Nothing's to Hard for Him
He can do anything but Fail
His Record will Prevail
Nothing's to Hard for Him
He can do anything but Fail
His Record will Prevail
Nothing's to Hard for Him
He can do anything but Fail
He can do anything but Fail
He can do anything but Fail
He can do anything but Fail
He can do anything but Fail
But Fail
[Chorus]
(Cos with our GOD)
All things are Possible
(With our GOD)
All things are Possible
(Yes, With our GOD)
All things are Possible
(With our GOD)
All things are Possible
[Verse 3]
His Record will Prevail
Nothing's to Hard for Him
He can do anything but Fail
His Record will Prevail
Nothing's to Hard for Him
He can do anything but Fail
He can do anything but Fail
He can do anything but Fail
He can do anything but Fail
He can do anything but Fail
But Fail
[Chorus]