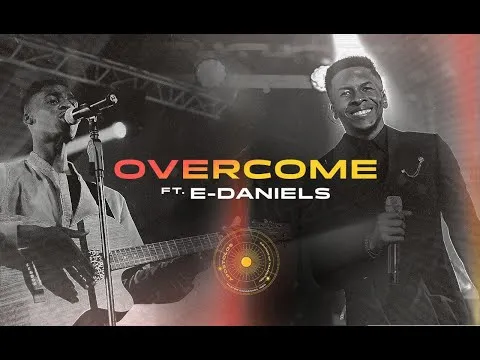 Celebration Church Int'l Lead pastor, Pastor Emmanuel Iren delivers a new song titled "Overcome" featuring E Daniels.

Speaking about the song, Pst Iren shares: "Overcome is the sound for the man in Christ. It's an anthem of inspiration. It's a song that inspires the possibilities in God to be made manifest in your life. This sound causes doubt to dissipate. As you sing the truth of this song, your reality as an overcomer will dawn on your consciousness"
After announcing the release of his album 'APOSTOLOS,' in April, he is already serving new music off the forthcoming project with release of Overcome and Grace Changes Everything Featuring Sinach.
OVERCOME Lyrics by Pastor Emmanuel Iren feat. E Daniel
[Verse 1]
Those who know their God
Will be Stronger
Mount on Eagle's Wings
They'll go Higher
No Matter what they Face
They won't be Tired
Cause they've got
The Fourth Man in the Fire
Those who know their God
Will be Stronger
Mount on Eagle's Wings
They'll go Higher
No Matter what they Face
They won't be Tired
Cause they've got
The Fourth Man in the Fire
[Chorus]
I have Overcome the World
I know, I know
I have Overcome the World
I know, I know
[Repeat Verse]
Those who know their God
Will be (Stronger)
Mount on Eagle's Wings
They'll go (Higher)
No Matter what they Face
They won't be (Tired)
Cause they've got
The Fourth Man in the (Fire)
Those who know their God
Will be (Stronger)
Mount on Eagle's Wings
They'll go (Higher)
No Matter what they Face
They won't be (Tired)
Cause they've got
The Fourth Man in the (Fire)
[Chorus]
I have Overcome the World
I know, I know
I have Overcome the World
I know, I know
I have Overcome the World
I know, I know
I have Overcome the World
I know, I know
[Verse 2]
The Greater One Lives in me
(I Know)
I can do Anything (I Know)
The Greater One Lives in me
(I Know, I Know)
The Greater One Lives in me
I can do Anything
The Greater One Lives in me
I Know, I Know
The Greater One Lives in me
I Know
I can do Anything, I Know
The Greater One Lives in me
I Know, I Know
The Greater One Lives in me
I Know
I can do Anything, I Know
The Greater One Lives in me
I Know, I Know
[Chorus]
I have Overcome the World
I know, I know
I have Overcome the World
I know, I know
I have Overcome the World
I know, I know
I have Overcome the World
I know, I know
HEY HEY HEY
HEY HEY HEY
[Chorus]
I have Overcome the World
I know, I know
I have Overcome the World
I know, I know
I have Overcome the World
I know, I know
I have Overcome the World
I know, I know