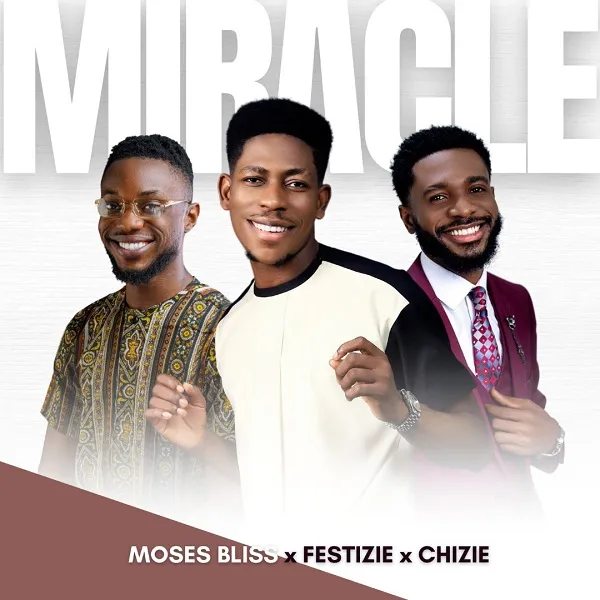 Moses Bliss alongside Festize & Chizie from his "Bigger Everyday" hit song team up for yet another gospel anthem "Miracle,".

he declarative, prophetic song fuses Afrobeats, Traditional vibes, and contemporary sound. The song reminds us all of our solid inheritance in Christ. It is a compilation of strong messages of love, joy, hope, faith, salvation, gratitude and assurance in Christ.
"Miracle" is the first new music from Moses Bliss after the successful release of his debut album," Too Faithful " which dropped earlier this year to great acclaim.
Lyrics: Miracle By Moses Bliss, Festize & Chizie
I can never fail,
I can never lose ,
That's the only life I know
Full of the Spirit when I step into the place that's the only way I go
(Yes I know who I am )
I can never fail,
I can never lose ,
That's the only life I know
Full of the Spirit when I step into the place that's the only way I go
(I've got the life of God in me)
I can never fail,
I can never lose ,
That's the only life I know
Full of the Spirit when I step into the place that's the only way I go
(That's the way I go )
I'm a Miracle eh
I'm a Miracle eh
I'm a Miracle eh
(I can never ever fail)
I'm a Miracle eh
I'm a Miracle eh
I'm a Miracle eh
(I'm not ordinary)
I'm a Miracle eh ( I know )
I'm a Miracle eh (Everyday)
I'm a Miracle eh
(Doesn't matter what I face everywhere I go I know)
They can not explain
They can not understand
How I prosper in everything that I lay my hand
Anywhere I go I bring brightness and I glow
The hand of God is mighty in my life and it shows
I've got the word of the Spirit in my mouth when I speak it
God is talking
I've got the word of the Spirit in my mouth when I speak it
God is talking
Shey you know me I nor fit fail
I get e plenty Grace
I'm unstoppable
Shey you know me I nor fit fail
I get e plenty Grace
I'm unstoppable
I can never ever fail
I'm a Miracle eh
I'm a Miracle eh
I'm a Miracle eh
(You can call me Miracle eh)
I'm a Miracle eh
I'm a Miracle eh
I'm a Miracle eh ( I am wonder)
See my life is moving from Glory to Glory
Oh brother I nor dey bobo you eh
Oh sister when you look at me
Na Goodness and Mercy dey my side e just dey follow me eh
See my life is moving from Glory to Glory
Oh brother I nor dey bobo you eh
Oh sister when you look at me
Na Goodness and Mercy dey my side e dey follow me eh
Success is a sure thing
Failure is nothing
I'm moving higher eh
Higher higher everyday
Standing on the mountain
All I see is Victory
Victory all the way
I'm a Miracle eh
So I can never ever lose
I'm a Miracle eh
I'm a Miracle eh
I'm a Miracle eh
(I'm not the man I used to be )
I'm a Miracle eh (everywhere I enter)
I'm a Miracle eh (everywhere dey scatter)
I'm a Miracle eh
(This is the Glory of the lord upon my life oh )
I'm empowered by the Spirit of the lord
What I can not do
It does not exist oh
I'm empowered by the Spirit of the lord
What I can not do
It does not exist oh
I'm empowered by the Spirit of the lord
What I can not do
It does not exist oh
I'm empowered by the Spirit of the lord
What I can not do
It does not exist oh
I can never fail,
I can never lose ,
That's the only life I know
Full of the Spirit when I step into the place that's the only way I go