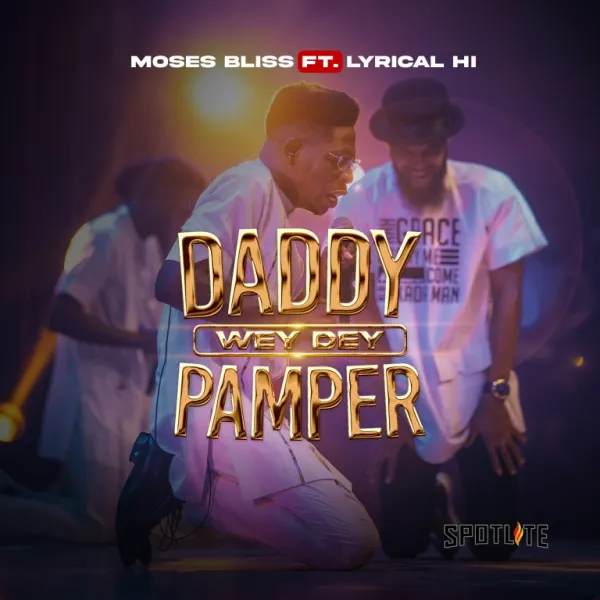 Nigerian Gospel music artist, 'Moses Bliss' teams up with spoken word artist 'Lyrical HI' in a new live spontaneous ministration 'Daddy Wey Dey Pamper'.

Daddy Wey Dey Pamper is an expression of the one who had been saved by grace. Moses Bliss sang "even when I fall your hand, you still dey hold my hand…" the song further reaffirms the love of God for humanity, how he gave it all for us to have eternal life.
Recorded live in the city of Abuja, music minister Mosses Bliss take us deeper with Daddy Wey Dey Pamper.
Lyrics: Daddy Wey Dey Pamper By Moses Bliss Ft. Lyrical HI
Even when I Fall Your Hand
You still dey hold my Hand
Lover of my Soul,
You nor dey break my Heart
I'll sing about Your Mercy
I'll sing about Your Grace
Na u dey Burst my Brain
Every night and day
Daddy wey dey Pamper
Daddy wey Dey Bless
Forever You're my Father
Na u dey give me Rest
When I look around
I see Your Faithfulness
I'll bow down on my knees
Cos na u wey be the Best
(Spoken Words Lyrical HI)
Even when I Fall Your Hand
You still dey hold my Hand
Lover of my Soul,
You nor dey break my Heart
I'll sing about Your Mercy
I'll sing about Your Grace
Na u dey Burst my Brain
Every night and day
Daddy wey dey Pamper
Daddy wey Dey Bless
Forever You're my Father
Na u dey give me Rest
When I look around
I see Your Faithfulness
I'll bow down on my knees
Cos na u wey be the Best
(Spoken Words Lyrical HI)
Even when I Fall Your Hand
You still dey hold my Hand
Lover of my Soul,
You nor dey break my Heart
I'll sing about Your Mercy
I'll sing about Your Grace
Na u dey Burst my Brain
Every night and day
Daddy wey dey Pamper
Daddy wey Dey Bless
Forever You're my Father
Na u dey give me Rest
When I look around
I see Your Faithfulness
I'll bow down on my knees
Cos na u wey be the Best
(Spoken Words Lyrical HI)
Even when I Fall Your Hand
You still dey hold my Hand
Lover of my Soul,
You nor dey break my Heart
I'll sing about Your Mercy
I'll sing about Your Grace
Na u dey Burst my Brain
Every night and day
Daddy wey dey Pamper
Daddy wey Dey Bless
Forever You're my Father
Na u dey give me Rest
When I look around
I see Your Faithfulness
I'll bow down on my knees
Cos na u wey be the Best