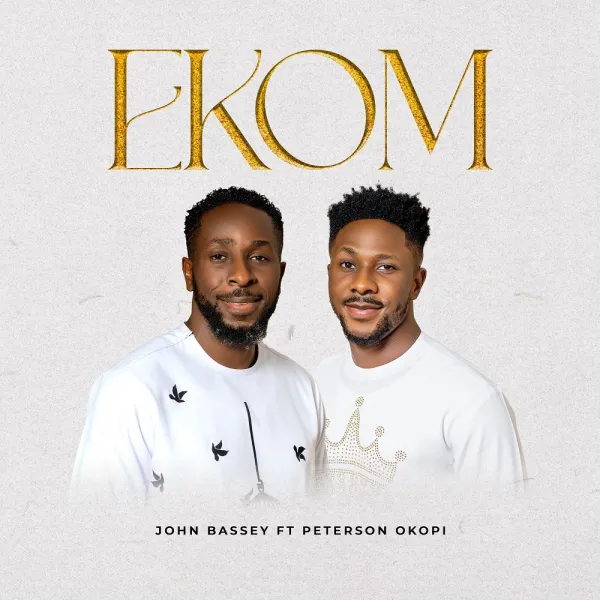 John Bassey releases Ekom and he features amazing gospel singer, Osuba Re Mare Crooner Peterson Okopi.

"EKOM," an Ibibio word translating to "PRAISE," is a testament to the boundless goodness and inexhaustible grace of God experienced firsthand.
This composition is a sincere testimony to God's unwavering faithfulness, guiding us through past blessings and miracles while instilling unshakable hope in the present and the future. It unequivocally declares that God's promises endure, standing unwavering and everlasting.
Collaborating With renowned gospel music minister Peterson Okopi, EKOM goes beyond music and develops into a spiritual journey. The song's primary goal is to give hope to everyone struggling with life's difficulties. It is a constant reminder of God's unwavering faithfulness, a source of healing, deliverance, and salvation in the midst of chaos and disarray. The mission of EKOM is to foster a spirit of unflinching gratitude unaffected by daily life's challenges.
About John Bassey
John, Mfoniso Bassey is a Nigerian gospel artist with a family background in music and a lead singer in House on the Rock, Uyo.
Privileged to be born and raised as a Pastor's son from Akwa Ibom State, John Bassey began his musical journey at age 5 in Calabar, conducting a church choir. As a teenager, he joined the youth music group "The House of Praise" and later "The Nobles", a prominent Gospel Acapella Music group founded by his elder brothers in 1994, where his musical talent was well-honed.
John Bassey is a fervent worshiper who elevates God's supremacy. His music ministry has transcended geographical borders, with his discography featuring six soul-stirring singles. His inspiration comes from his faith in God and diverse life experiences. In addition to his musical pursuits, John is an entrepreneur, community leader, recording artist, songwriter and voice-over artist.
Download Ekom – John Bassey ft. Peterson Okopi