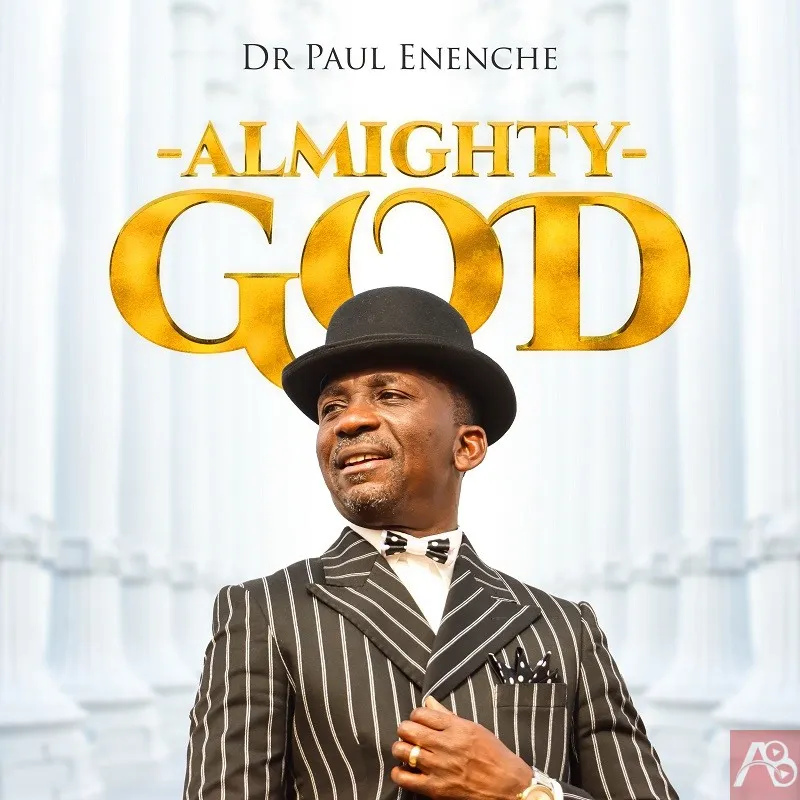 Almighty God is brand new release from Televangelist, preacher and songwriter, Dr Paul Enenche in celebration of his birthday. The clergy drops this new hit as he clock plus one. Dr Paul Enenche who is known for his outstanding and spirit filled song is out to bless lives in this new single.

Pastor Paul Enenche has to his credit over 15 Albums, In His Presence vol. 1-8, Traditional Worship, Hymns vol. 1 and 2, Antidepressant, Heart's desire, Let me want what you want( Family Album), Plan your Life, and numerous singles, has ministered across the globe with diverse testimonies erupting from people who have been blessed by his ministry of music.
Almighty God is accompanied with a befitting video shot around Glory Dome and some other locations in Abuja.
Almighty God Lyrics by Dr Paul Enenche
Almighty, mighty God
Almighty, mighty God
Almighty, mighty God
Almighty, mighty God
Almighty God
You do what you say
When you say you will
However you want
Almighty God
You do what you say
When you say you will
However you want
Alewi lese (Alewi lese)
Alese lewi (Alese lewi)
Okue omezuwe (Okue omezuwe)
Ekwueme (Ekwueme)
Alewi lese (Alewi lese)
Alese lewi (Alese lewi)
Okue omezuwe (Okue omezuwe)
Ekwueme (Ekwueme)
Okamale ya (Okamale ya)
Alewi lese (Alewi lese)
Okue omezuwe (Okue omezuwe)
Obata obie (Obata obie )
Okamale ya (Okamale ya)
Alewi lese (Alewi lese)
Okue omezuwe (Okue omezuwe)
Obata obie (Obata obie
Almighty, mighty God
Almighty, mighty God
Almighty, mighty God
Almighty, mighty God
When all have failed
You can never fail
Omnipotent one
All powerful God
When all have failed
You can never fail
Omnipotent one
All powerful God
Alewi lese (Alewi lese)
Alese lewi (Alese lewi)
Okue omezuwe (Okue omezuwe)
Ekwueme (Ekwueme)
Okamale ya (Okamale ya)
Alewi lese (Alewi lese)
Okue omezuwe (Okue omezuwe)
Obata obie (Obata obie )
Okamale ya (Okamale ya)
Alewi lese (Alewi lese)
Okue omezuwe (Okue omezuwe)
Obata obie (Obata obie )
Okamale ya ya ya (ya ya ya)
Alewi lese se se se (se se se)
Okue omezuwe e e (e e e)
Obata obie
Okamale ya ya ya (ya ya ya)
Alewi lese se se se (se se se)
Okue omezuwe e e (e e e)
Obata obie
Almighty God
You do what you say
When you say you will
However you want
Almighty God
You do what you say
When you say you will
However you want
Alewi lese (Alewi lese)
Alese lewi (Alese lewi)
Okue omezuwe (Okue omezuwe)
Ekwueme (Ekwueme)
Alewi lese (Alewi lese)
Alese lewi (Alese lewi)
Okue omezuwe (Okue omezuwe)
Ekwueme (Ekwueme)
Okamale ya (le ya le ya)
Alewi lese (le se le se)
Okue omezuwe (zu we zu we)
Obata obie
Okamale ya ya ya (ya ya ya)
Alewi lese se se se (se se se)
Okue omezuwe e e (e e e)
Obata obie