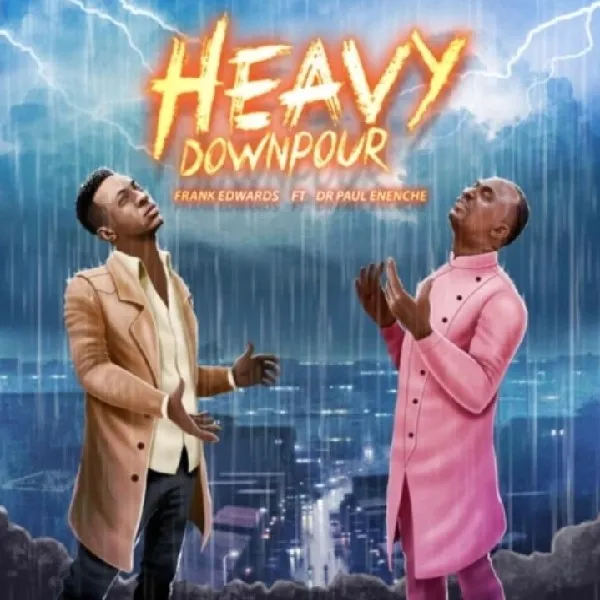 Heavy Downpour is the latest sound iconic gospel minister Frank Edwards featuring Anointed Gospel minister and preacher Dr Paul Enenche.

Frank Edwards – Heavy Downpour is out. It's a delightful surprise for fans of renowned Nigerian gospel music artist Frank Edwards on the release of his latest single "Heavy Downpour" featuring one of Nigeria's known and respected Pastor Dr Paul Eneche, of Dunamis Church.
"Heavy Downpour" is a song of faith, hope and expectations. The slow worship style ballad speaks of the expectation of one with faith to receive from God. It not only samples audio from Paul Eneche's prayer but featuring the Dunamis Pastor on the track. You can stream Frank Edwards – Heavy Downpour on Boomplay.
Lyrics: Frank Edwards – Heavy DownPour ft. Dr Paul Enenche
(VERSE 1)
There will be a Heavy Down Pour
Of Heavens Rain Today
(A Heavy Down Pour
Of God's Favor Today)
There will be a Heavy Down Pour
Of God's Spirit Today
(A Heavy Down Pour
Of God's Favor Today)
There will be a Heavy Overflow
Of God's Blessings Today
(A Heavy Down Pour
Of God's Favor Today)
(Speaking in Tongues)
(VERSE 2)
The Pain of Yesterday
You will Feel them No more
(A Heavy Down Pour
Of God's Favor Today)
There will be
An Increase in Grace
There will be a Favor Overflow
(A Heavy Down Pour
Of God's Favor Today)
And I Declare
You shall not die but Live
(A Heavy Down Pour
Of God's Favor Today)
(Verse 3)
A Heavy Down Pour
Of Fresh Fire Today
(A Heavy Down Pour
Of God's Favor Today)
A Heavy Down Pour
Of God's Power Today
(A Heavy Down Pour
Of God's Favor Today)
A Heavy Down Pour
Of God's Presence Today
(A Heavy Down Pour
Of God's Favor Today)
A Heavy Down Pour
Of God's Favor Today
A Heavy Down Pour
Of God's Favor Today
A Heavy Down Pour
Of God's Favor Today
A Heavy Down Pour
Of God's Favor Today
A Heavy Down Pour
Of God's Favor Today
A Heavy Down Pour
Of God's Favor Today